---
Owing to a few highly successful blog shops selling fashion wear in Singapore, there have been many eCommerce websites selling clothes and fashion wear since 2010. This resulted in the popular perception that eCommerce businesses are most likely to be in the fashion industry.
However, this is not the case, as eCommerce companies in Singapore are getting more diverse and there's now a wide range of products that you can find nowadays on Singapore eCommerce platforms.
Here, we've curated 15 local eCommerce sites that you may not be aware of. Oh yes, and they happen to be designed and coded by none other than – Verz Design.

1. Liquor
3 Kraters exude a simplistic yet snazzy and charismatic demeanour with its classy images, boasting a list of alcoholic beverages categorised by type, brand, price, and age statement.

2. Honey, Healthy Food
Bioconcept's website is coated with a breathtaking synergy of picturesque images and an eloquent tone that draws attention to its purpose.

3. Lifestyle, Electrical & Household Appliances
Reliable and readily accessible at first glance, Mayer's spick and span design reflects the quality grade of its products.

4. Superhero Apparels and Fashion
Kartoon Kracker uses mighty colours of red and yellow, together with banners of popular cartoon heroes and dynamic content, to illustrate its valiant theme and appeal to its target audience.

5. Fitness and Wellness Products
Featuring a spectrum of fitness and wellness products, OTO's website design simulates a natural experience of healthy living.

6. Anti-Bacterial Lifestyle Products
The content and strategic usage of flat design on BioCair's website give rise to an earnest approach to foster a pristine level of cleanliness and hygiene in family environments.

7. Logistics Delivery Service
Focused, straight to the point and concise, Jadia Logistics's website is effective in immediately catering to customers who require their wide range of services.

8. Office/System Furniture
The website of the Happy Office People is a sturdy assembly of sleek designs and contemporary furnishings that employs image-magnifying and colour-superimposing functions for viewers to explore their options visually.

9. Health-Oriented Chinese Supplements
The user progression through Jiaqi's website brings viewers through a scenic and simple journey of authentic and organic immersion into the Chinese ecosystem of bird's nests.
Placing significant emphasis on its local origins, Ocean Health encompasses a holistic range of services and health enhancement products on its website, supplemented with logical and easy-to-understand product descriptions.

11. Domestic Hardware
Modern Link houses a site with clear and context-rich categories of purposeful, everyday hardware for the spruce and stylish homemaker.

12. Dinnerware for Kids
Playful fonts, lively summer colours, and bright hand-drawn illustrations aplenty, Bubble's website emulates a happy playground for kids.

13. Artistically-Designed Tableware
Lovera Collections is essentially a photography-oriented website featuring an elegant gallery of sophisticated wares that resemble Victorian aesthetics.

14. Hand-crafted and Curated Tea Blends
The Tea Depot is an online artisanal tea specialist that frames itself with a refined and decorous, yet minimalist layout, classifying its teas by flavour and brand.

15. Female Swimwear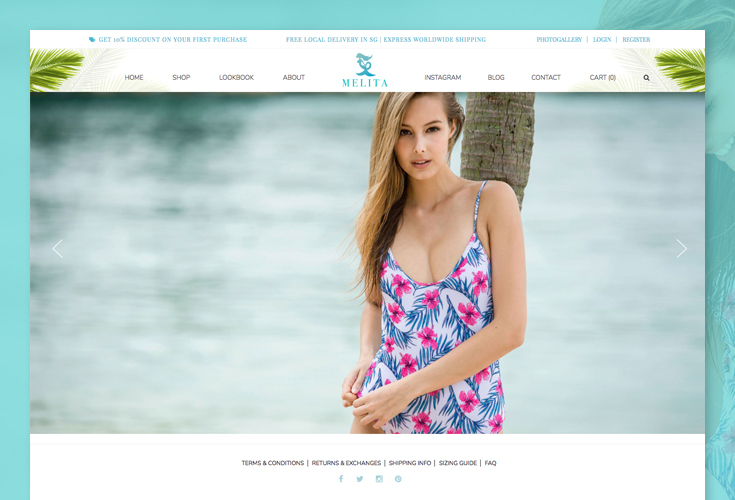 Refreshing the concepts of positive body image, Melita focuses on a range of sensuous and fashionably novel beachwear – promoting healthy living, exotic lifestyles, and feminine confidence.
All our clients enjoy a FREE Responsive Web Design for viewing across multiple platforms!
We provide:
– Project Management & Content Optimisation
– eCommerce Programming Features
– Web Design
– Social Media and On-page SEO
– Hosting
LAUNCH your Online Store Now
Call Us at +65 6841 1680